Eau Claire School of Dance is thrilled to offer a variety of Beginner/Intermediate level dance classes for students ages 18 and up! Though designed for fun and exercise, our adult dancers will also have the opportunity to perform in our spring recital if they wish to. Contact ECSOD for more information on our Adult Classes, or register now!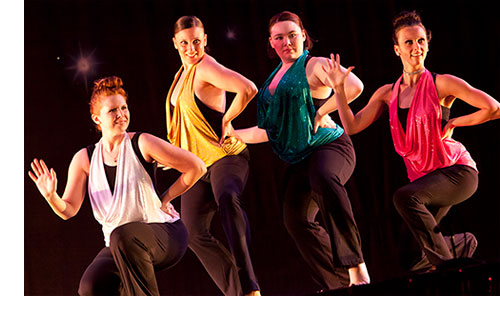 Adult Hip Hop
Hip Hop is a fun, funky, fast-paced style of dance that's guaranteed to give you a fabulous workout without you even realizing it!
Adult Tap
Tap is all about rhythm! This class which focuses on tap basics along with some intricate, slightly more advanced combinations. A great workout for your legs, your mind, and your heart! Dancers wear tap shoes in order to create sound patterns with their feet.
Adult Jazz
Jazz is a stylized, fast-paced form of dance that employs many of the same concepts of ballet. This form of dance includes a variety of different skills and other technical aspects, and is paired with music that is popular and upbeat. Students focus on strength, technique, memorization and terminology.
Adult Ballet
Ballet is a joint-friendly, classical and artistic dance form which combines grace and precision of movement, with a formalized set of steps and gestures.