Eau Claire School of Dance strives to deliver high-quality dance instruction in a fun, positive, encouraging, and disciplined environment. We are proud to provide a nurturing yet challenging atmosphere that inspires students to reach their fullest potential as dancers, as well as individuals. It is our goal to promote dedication and hard work, foster friendships, and encourage creativity in a supportive and safe community.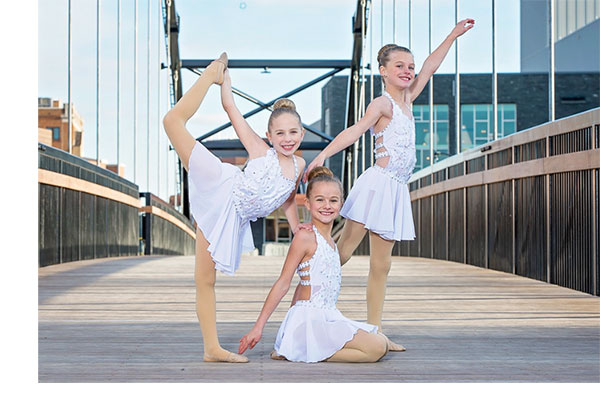 Why Choose ECSOD?
Smaller classes are our favorite! We limit our classes to nine dancers. This allows our amazing staff to give your dancer more personal attention and hands-on instruction. Our younger classes also have assistants for a lower student/instructor ratio.


We offer three performance opportunities:

Summer Show
Winter Show
Spring Show (our annual end-of-the-year show)


ECSOD has classes to fit into your family schedule. Offering over 100 different classes per week, both during the daytime and evening hours, you're sure to find something that works for you!


Here at ECSOD, we are proud to offer multiple options for you and your dancer to explore. From the basic one class per week to performance teams and intensive programs, we have something for everyone!

EXPLORE - one class per week, no additional performances or requirements
PERFORM - hour long classes, community performances, one competition
COMPANY - Intensive program, three competitions, set class requirements


ECSOD is proud to offer age-appropriate dance education and costuming.

You'll love our passionate and friendly staff! Our teachers love to dance and especially love to share their passion for dance with their students!

Parents are welcome to wait for and watch their dancers in our large, family-friendly waiting area. We have viewing TVs for each of our three studios, The Shop @ ECSOD to browse for new and used dancewear/shoes, and a Snack Barre!

Location, location, location! We love being in the heart of beautiful DOWNTOWN EAU CLAIRE! The studio is close to multiple coffee spots, restaurants, shops, the Children's Museum, and more. There's so much to check out and enjoy before and after class or while you wait for your dancer.