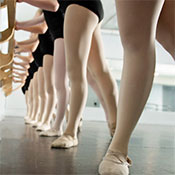 Ballet is the foundation of dance. It teaches proper placement, alignment, balance, technique and control. All of these elements are extremely important in any form of dance. Students will focus on improving strength, control, and body positioning in barre and center work, as well as learning all of the vocabulary and terminology of Ballet. A great class for any and every student. Classes offered at all levels including adults.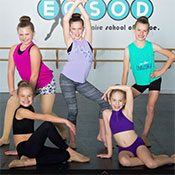 Jazz is a stylized, fast-paced form of dance that employs many of the same concepts of ballet. This form of dance includes a variety of different skills and other technical aspects, and is paired with music that is popular and upbeat. Students focus on strength, technique, memorization, and terminology. Classes available for all levels including college! Dancers will be placed in the correct class level by age and ability.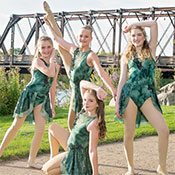 Lyrical is a dance form based on creative expression. It is story set in motion. Lyrical is a fusion of ballet and jazz which combines one's own expression along with technical skills. Students must have a solid dance base for this class.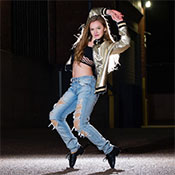 Tap is all about rhythm! This exciting and challenging form of dance is executed by creating combinations of sounds with the shoes on your feet. Students focus on rhythm, timing, and coordination. Adult classes also available!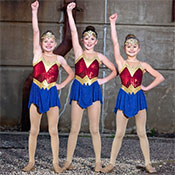 Musical Theatre is an exciting class combining dance with acting and lip-syncing! Dancers recreate numbers from Broadway Musicals and learn the importance and the art of entertainment. Ages 10 and up.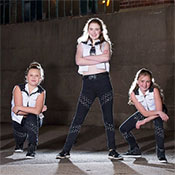 Hip Hop is the style most frequently seen on television and music videos. Movements are fast, funky, and intricate at times. A Jazz background is recommended. Adult classes also available! Bring your spunky attitudes!<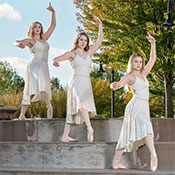 Pointe is offered to those students who have mastered the knowledge and technique of ballet and are ready for the next level. Strength and control are extremely important in this dance form. Instructor approval is necessary.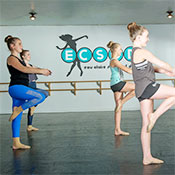 Technique classes are available to any student wishing to improve upon the technical aspects of dance including their jumps, leaps and turns. Classes available in Jazz and Ballet. Technique classes do not perform a dance in the recital and therefore do not need to purchase a costume or pay the costume deposit at registration. Classes are offered at all levels.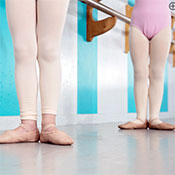 MOVE IT! is an all-inclusive dance class for children with disabilities. Come move it, shake it, and groove it with us! It's a BLAST! Proper student/instructor ratio. Wheelchair accessible.
Looking for Summer Classes? Click here!

Schedule